The BT600 is TOPDON's newest advanced battery tester for 12V vehicles. With a 3.5 inches color screen and a built-in thermal printer, this tool offers the ultimate solution for accurate, fast, and convenient testing. It allows you to easily view the battery's condition and print test reports in real-time. .
The BT600 adopts a cutting-edge conductivity testing technology and includes reverse polarity protection to prevent improper connections. This multifunctional tool can measure the actual Cold Cranking Ampere capacity of the car's battery, its state of health, and quickly analyze the starter and charging systems .
IMPROVED DESIGN FOR EVEN MORE CONVENIENCE
With the BT600, you get a top-notch battery tester with an improved display. Now you can see all test results on a 3.5 inches Color Screen!
PRINT TEST REPORTS IN REAL-TIME
Its Built-In Thermal Printer allows users to print reports immediately after performing battery tests. All you will need is printer paper!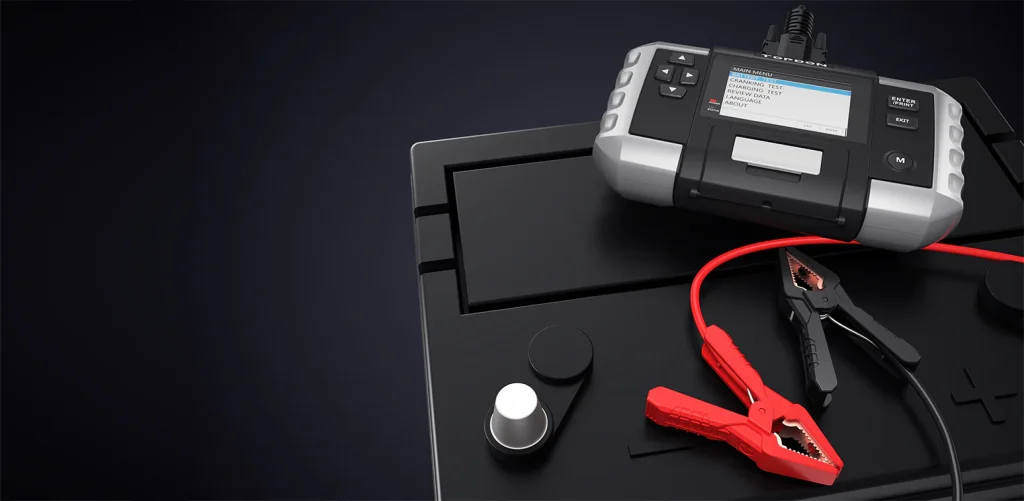 SAFETY ABOVE EVERYTHING
The device come with premium large, reinforced, smoke-free, spark-free copper clamps. Its reverse polarity protection will prevent battery damage, saving you money from repair and replacement.
Providing unmatched safety, the BT600 also impedes overheating and electrical shock.
YOUR ULTIMATE SOURCE FOR PRECISE BATTERY DATA
Due to its cutting-edge conductivity testing technology, the BT600 displays accurate and complete test results in seconds.
This multifunctional tool performs a wide variety of tests, including: battery tests, cranking tests and charging tests.
EXPANDED CAPABILITIES TO TEST EVEN MORE VEHICLES
Supporting charging tests and cranking tests for 12V & 24V Lead-Acid batteries, performing battery tests on 12V batteries. This tester enables professionals to test passenger cars and heavy-duty. With the BT600, technicians will be able to complete even more jobs.